Alzheimer's Awareness Month
January is Alzheimer's Awareness Month
ParaMed Commemorates Alzheimer's Awareness Month
ParaMed is part of the Extendicare family which has provided over $550,000 to the Alzheimer's Society of Canada over the past 6 years.
ParaMed provides dementia care to seniors in their home. We are available 24-hours a day, 7-days a week.
We deliver home care in the language of your choice.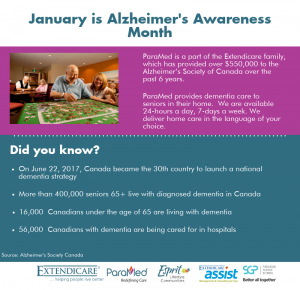 Did You Know?
On June 22, 2017, Canada became the 30th country to launch a national dementia strategy
More than 400,000 seniors 65+ live with diagnosed dementia in Canada
16,000 Canadians under the age of 65 are living with dementia
56,000 Canadians with dementia are being cared for in hospitals