Extendicare Statement on COVID-19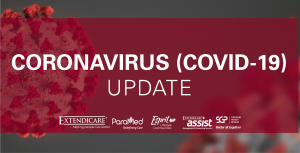 The care and safety of our residents, clients, patients, team members and families are our top priority. We are following Public Health Authority directives to help keep our clients, patients, family members and team members safe. When news of COVID-19 started to come out, we activated our Incident Management System (IMS) team led by our National Director of Infection Prevention and Control, and comprised of leaders and clinical staff from across the company.  The IMS team has been meeting daily since January to develop and implement strategies to manage the virus threat.  Daily communications within our organization update team members on emerging issues and changes to monitoring procedures.  A support team is available to answer any questions from the staff.
Extendicare is working closely with Public Health agencies across Canada to prevent the spread of COVID-19 through the screening of all residents, team members and visitors to our homes. We ask that visitors refrain from visiting if they exhibit symptoms such as fever, cough, sore throat, nasal congestion, chills, muscle pain or a headache, and this is displayed on a poster at all locations in all required languages. Procedures are also in place for screening care team members who are prohibited from coming to work if they are ill. We actively monitor and screen our residents to determine if they are showing any of the related symptoms, and we take necessary precautions if they do.  We adhere to measures to reduce the risk of infections and to help prevent transmission, starting with hand washing. We remain committed to providing high quality care and service to our residents.
As Extendicare operates under protocols established by local Public Health Authorities, please reach out to the particular region's office for further information on the procedures in use.