Growing Together | How one ParaMed Nurse Built a Career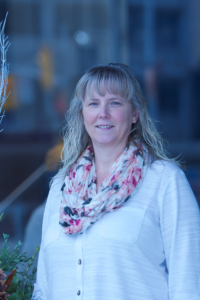 Liz H, District Director, Toronto Central
When Liz first joined ParaMed Home Health Care in Oshawa, Ontario in 1995, she was expecting it to be a brief part of her career in health care. She wanted to gain experience as a Personal Support Worker and then work in a hospital, which was the conventional work environment she and her nursing peers had envisioned.
Reflecting on the early days of her career, Liz said, "I had only known nursing to be in hospital. There wasn't the same emphasis on home care and keeping people in their homes where they prefer to be. At the time, everything was done in a hospital."
As her time at ParaMed progressed, Liz developed a desire to learn more about the home care landscape and took on new challenges and experiences. As a driven clinical professional, she had quickly gained the trust of patients, families and teammates, and moved into several leadership roles, from clinical supervisor to operations manager and today, motivates a team of clinical and operational professionals as a District Director.
"When I was in nursing school, leading teams was the last thing I thought I would be doing. At the time, nursing programs didn't offer much in terms of leadership development and training."
When ParaMed launched its Leadership Academy program, Liz and several others jumped at the opportunity to further develop their skills. The program is available to any people-leader within ParaMed and is designed to support best-practice sharing across teams, offering dedicated training for growth.  Although Liz is now an experienced ParaMed leader, she says the ongoing training continues to have a major impact on her ability to motivate teams to success.
"It's important to take time to self-reflect on management skills and how you relate to people. Participating in the program it has really made a positive impact on our culture as a team."
As Liz reflects on her 27 years with ParaMed, she continues to be motivated by a desire to learn and grow, inspired by her diverse team and still finds purpose helping people get the care they need at home.
Want to join Liz's team? Click here to see the available roles.