Meet Stephen | ParaMed recruitment team manager, former ParaMed Personal Support Worker
Early in life, Stephen always knew he wanted a job that would allow him to help others, he just wasn't sure what form that job would take.
He ultimately decided to pursue a career in health care and began by enrolling in the Personal Support Worker (PSW) program at St. Clair College, in Windsor, Ontario. Shortly after graduating, Stephen joined ParaMed and was eager to help patients in the community.
"Looking back, I remember how supported I felt by all my ParaMed colleagues. Even though I was brand new to community care, I always knew I could go to them with any questions," Stephen says.
Stephen's favourite parts of working as a PSW was learning about patients' lives and assisting them to live in the comfort of their homes. "Every day when I visited my patients, it was fulfilling
to see how happy they were to be receiving care in their home. My hope is that as I get older, I can remain in a place of comfort as well," Stephen says.
Fast forward 13 years later, Stephen is still helping others – but in a different way.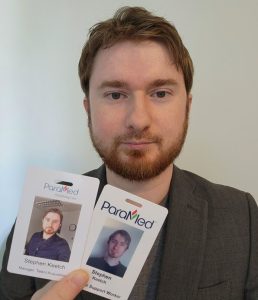 Today, Stephen works as a Recruitment Manager and leads a team of recruiters in their efforts to attract dedicated caregivers to join ParaMed. Having worked for ParaMed previously as a community caregiver himself, Stephen brings a unique perspective to his role.
"I would recommend that anyone who has the same desire to help and care for others work at ParaMed. Working as a community caregiver is an amazing and unique experience that you cannot get anywhere else," Stephen says.
"I was excited to rejoin ParaMed. It was a full circle moment and truly felt like coming home," he says.
Click here to learn about job opportunities at ParaMed.