ParaMed Proud | A passion for caring and the power of team collaboration– Amanda's story
Through our ParaMed Proud series, we're living life through the eyes of our team members – learning about their career journeys and the essential roles they play in delivering care for the thousands of people who rely on us every day.
Amanda has always known that she wanted to work in a role caring for others.
This aspiration led her to pursue nursing and work in long-term care, a hospital, and other healthcare settings. This is what brought her to ParaMed, where she currently serves as Operations Support Manager for West Ontario.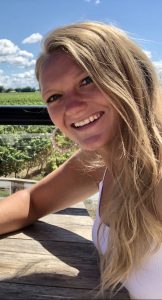 Amanda collaborates with various teams to help with clinical reporting, ultimately leading to better patient care.
For Amanda, working at ParaMed is about collaborating with a team.
"I really enjoy working with so many determined, compassionate, and experienced team members who are committed to providing the best home care in our communities," says Amanda.
She feels that one of her contributions that has made a difference at ParaMed is implementing new approaches to scheduling that better support the team in the Waterloo Wellington area, and to help connect patients with the consistent support they need.
"When times get tough, don't give up," says Amanda. "Instead, work with your team to power through challenges, learn from them, and celebrate accomplishments together. The work we do is not always easy, but it certainly is rewarding."
To be part of our team and make a positive difference in your community, visit https://www.paramed.com/careers/