Remembrance Day: Lieutenant Colonel (Ret'd) Rita LePage reflects on her family's legacy of service
Patient and Family Advisory Council (PFAC) co-chair Rita LePage is a full-time care giver who served in the military, retiring from her post to care for her mom. Rita shares with us what Remembrance Day means to her:  
—
The lump in my throat and, after an effort to retain them, tears, never fail to grip me as I stand to attention at a cenotaph listening to the haunting melody of Taps played on a single bugle commemorating the lost, the maimed, the survivors, and their families. 
It hurts. And it is deeply personal. Born of a family legacy of service – my great grandad in WWI, grandad in WWII, father in the Korean War, and my own 31 years of service in the Canadian Forces from 1984 to 2015.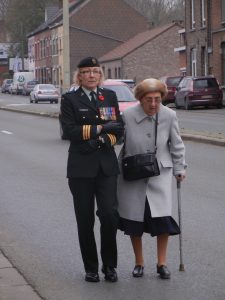 As a Public Affairs Officer, I deployed multiple times on United Nations and NATO missions to the former Yugoslavia (Croatia, Bosnia), and Afghanistan. I also served in the Canadian Expeditionary Forces Command, and NATO's Allied Command Operations Command in Belgium which planned these and other missions including those in Iraq, Kosovo, and Libya. 
It feels like a lot. Sometimes it feels like too much. But with the challenging work, environments and experiences, there is also good. And for me that good is the sense of purpose, helping others, of being a part of something bigger than myself. And people. Most importantly people. The people I served with remain important touchstones in life after service – the intense shared experiences binding like no other.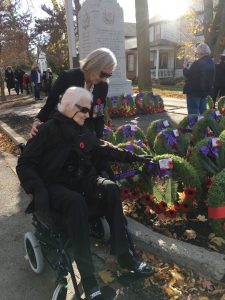 Since leaving the military I have been on another type of journey – though still serving. I am the full-time care giver to my 90-year-old mom who is blind and suffers from dementia as well as a range of other ailments. I've cared for Mom for eight years – the last year and a half with the assistance of ParaMed home care Personal Support Workers, Maria and Stacey, for whom I am so grateful. 
At the 11th hour, on the 11th day of the 11th month, we will gather. 
"At the going down of the sun, and in the morning, we will remember them." 
Lieutenant Colonel (Ret'd) Rita LePage
Co-chair, ParaMed Patient and Family Advisory Council